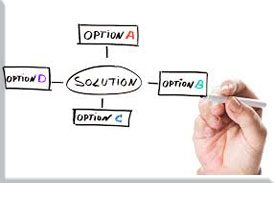 Running a business is a full time job. There are many decisions that must be made. New problems appear every day and stack onto the ones left unresolved yesterday. Don't let running your business get in the way of using your skills doing your "real" job. Are you a skilled electrician? A plumber? A dentist? An auto mechanic? A painter? A Veterinarian? That should be your job! Not worrying about how to grow your business, how to advertise, how to keep your technology up to date. Let us provide you with the Solutions you need so that you can get back to doing what you're great at.
Either over the phone or through an office visit we sit down, listen and evaluate your roadblocks.    After our consultation we go back and develop a plan that resolves your issues and helps you grow.
Our primary focus is to develop a solution to whatever your problem may be.
We want to be a partner and work alongside you and help you grow.
We are professional problem solvers- let us be your solution.
We are a national company-that helps you  be successful in your local market
As former and current business owners we know how to solve problems
Let us incorporate our process into your Online Marketing
Manage relationships that focus on your business principles
You focus on your strengths we'll manage the rest
Our solutions will enhance your reputation and show your clients that you care about who you are.
We create solutions that draws clients to your business based on the needs they need fulfilled!